Heritage Routes (Michigan's Byways)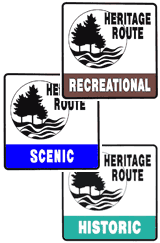 The Michigan Heritage Route Program, created by the Public Act 69 of 1993, is designed to identify, inventory, protect, enhance, and in some cases, promote state trunklines and adjacent land with distinctive or unique scenic, cultural, or historic qualities. The normal process for Heritage Route nomination within the Michigan Heritage Route Program follows a standard eight-step procedure: formation of a nominating team, identification of potential routes, evaluation of the highway using a roadside inventory, selection of route to be nominated, preparation of a management plan, evidence of local support, preparation of nomination/application, and submission of application.
There are three categories of Heritage Routes, each linked below with detailed listings for each route, including the limits of the Route, its length, notes and related links:
Scenic Heritage Routes - a state highway having outstanding natural beauty;
Historic Heritage Routes - a state highway having outstanding historic buildings, and resources along its length; and
Recreational Heritage Routes - maintained not only to serve the recreational driver, but also to capture that recreational setting of the facility or area itself, and set the mood for the recreational experience. (Source: MDOT.)
Michigan's Byways
The Michigan Heritage Routes program is currently undergoing a rebranding of sorts to better reflect the nature of the routes as well as to allow more flexibility in the types of routes which can be accepted into the program. In the future, these routes will be known more generally as "Michigan's Byways" with a new logo sign which falls in line more with similar programs in other states and helps to align it with the America's Byways program as well. At present (2014), it is unclear when this transition will take place and when the new signs will appear in the field. Until then, the existing Heritage Routes will be listed on this site under their original categories.
Jump to: Scenic Heritage Routes | Historic Heritage Routes | Recreational Heritage Routes
List of Michigan Heritage Routes
Heritage Route
Route
Counties
Scenic Heritage Routes:
Leelanau Scenic Heritage Route
M-22, M-109, M-204
Leelanau
Old Mission Peninsula Scenic Heritage Route
M-37
Grand Traverse
Copper Country Trail Scenic Heritage Route & National Byway
US-41
Houghton, Keweenaw
M-119 Tunnel of Trees Scenic Heritage Route
M-119
Emmet
Tahquamenon Scenic Heritage Route
M-123
Chippewa, Luce
Historic Heritage Routes:
Iron County Heritage Trail
US-2
Iron
US-12 Heritage Trail
US-12
Berrien, Cass, St Joseph, Branch, Hillsdale, Lenawee, Washtenaw, Wayne
Center Avenue Heritage Route/Bay City Historic Route
M-25
Bay
Marshall's Territorial Road Historic Heritage Route
BL I-94
Calhoun
Monroe Street Heritage Route
M-125
Monroe
Recreational Heritage Routes:
Woodward Avenue Recreational Heritage Route
M-1, BL I-75,
BUS US-24
Wayne, Oakland
Pathway to Family Fun Recreational Heritage Route
M-15
Oakland, Genesee
Huron Shores Recreational Heritage Route
US-23
Arenac, Iosco, Alcona, Alpena, Presque Isle, Cheboygan
U.P. Hidden Coast Recreational Heritage Route
M-35
Menominee, Delta
I-69 Recreational Heritage Route
I-69
Branch, Calhoun
Chief Noonday Recreational Heritage Route
M-179
Allegan, Barry
Proposed North Huron (M-134) Recreational Heritage Route
M-134
Mackinac, Chippewa
Additional Information