Pure Michigan Byways (Heritage Routes)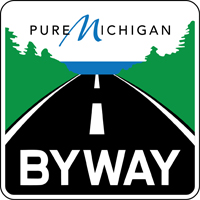 Pure Michigan Byways are specially-designated and signed state trunkline routes with special significance. The Michigan Heritage Route Program—the original name for the Pure Michigan Byways, was created by the Public Act 69 of 1993 and designed to identify, inventory, protect, enhance, and in some cases, promote state trunklines and adjacent land with distinctive or unique scenic, cultural, or historic qualities. The normal process for route nomination within the Pure Michigan Byways Program follows a standard eight-step procedure: formation of a nominating team, identification of potential routes, evaluation of the highway using a roadside inventory, selection of route to be nominated, preparation of a management plan, evidence of local support, preparation of nomination/application, and submission of application.
Pure Michigan Byway routes are designated under six different "intrinsic qualities" (categories)— the three original Heritage Route categories and three new ones—each linked below with detailed listings for each route, including the limits of the Byway, its length, notes and related links:
Scenic Byways & Heritage Routes – state highways having outstanding natural beauty;
Historic Byways & Heritage Routes – state highways having outstanding historic resources along their length;
Recreational Byways & Heritage Routes – state highways maintained not only to serve the recreational driver, but also to capture that recreational setting of the area itself, and set the mood for the recreational experience;
Cultural Byways* – state highways traversing an area with unique cultural and/or ethnic heritage amenities such as art galleries, theatres, opera houses, restaurants, markets and music venues;
Archeological Byways* – state highways traversing a corridor with ruins, artifacts, and structural remains; and
Natural Byways* – state highways traversing a corridor with natural features that are relatively undisturbed, unique geological landforms, vegitation, water bodies, or conservation areas.

* New categories debuting with the Pure Michigan Byway program in 2015.
2014–16: Heritage Routes become Pure Michigan Byways
On December 17, 2014, the Michigan State Senate passed House Bill 5072 to change the name from Heritage Route to Pure Michigan Byway. According to an MDOT report, "This action is part of a rebranding and reinventing of the program to align it with statewide travel and tourism initiatives." The House Bill, sponsored by Rep. Peter Pettalia, amended Public Act 69 of 1993 and removes references to Michigan Heritage Routes and replaces them with references to "Pure Michigan Byways", requires MDOT to designate all Michigan Heritage Routes as Pure Michigan Byways within one year after the bill's effective date, and allows MDOT to designate portions of a road as a Pure Michigan Byway. The Governor signed the bill into law on December 30, 2014.
The existing Heritage Route markers posted along each route will be replaced with new markers developed in cooperation with the Michigan Economic Development Corporation, MDOT, and the various Byway committees. The new markers incorporate the "Pure Michigan" campaign logo and the word "Byway," which is used nationwide in 45 other state programs. In addition, just prior to the Pure Michigan Byways legislation, MDOT also introduced three new "intrinsic qualities" (categories) to the program—Cultural, Archaeological, and Natural—to augment the existing Scenic, Historic and Recreational categories. The additional categories were added to allow for more flexibility with the types of routes which can be accepted into the program.
The transition from Heritage Routes to the new Pure Michigan Byways in the field began in October 2015 with the designation of the first new route under the "Byways" banner: M-134 in the Eastern Upper Peninsula. Existing Heritage Routes are scheduled to receive new signage starting in 2016. Until an existing Heritage Route is verified as having its new Pure Michigan Byways signs posted, they will be listed on this site under their original categories. Newly-signed or newly-designated Byways, however, will be listed under the appropriate Byway category.
Jump to: Scenic Routes | Historic Routes | Recreational Routes
List of Pure Michigan Byways & Michigan Heritage Routes
Pure Michigan Byway -or- Heritage Route
Route(s)
Date
County(ies)
Scenic Byways & Heritage Routes:
Copper Country Trail National Byway
US-41
1995
Houghton, Keweenaw
Leelanau Scenic Heritage Route
M-22, M-109, M-204
2002
Leelanau
M-119 Tunnel of Trees Scenic Heritage Route
M-119
2003
Emmet
M-22 Benzie Manistee Pure Michigan Byway
M-22
2016
Manistee, Benzie
M-55 Recreational Scenic Byway (Proposed)
M-55
2023
Manistee, Wexford, Missaukee, Roscommon, Ogemaw, Iosco
North Huron Scenic Byway
M-134
2015
Mackinac, Chippewa
Old Mission Peninsula Scenic Heritage Route
M-37
2008
Grand Traverse
Tahquamenon Scenic Byway
M-123
2007
Chippewa, Luce
Top-of-the-Lake Senic Byway
US-2
2017
Mackinac, Schoolcraft
Historic Byways & Heritage Routes:
Center Avenue Heritage Route/Bay City Historic Route
M-25
1997
Bay
Iron County Heritage Trail
US-2
1999
Iron
Marshall's Territorial Road Historic Heritage Route
BL I-94
2001
Calhoun
Monroe Street Heritage Route
M-125
1995
Monroe
US-12 Heritage Trail
US-12
2004
Berrien, Cass, St Joseph, Branch, Hillsdale, Lenawee, Washtenaw, Wayne
West Michigan Pike Byway
I-94, BL I-94, M-63, I-196/US-31, BL I-196, US-31, US-10
2016
Berrien, Van Buren, Allegan, Ottawa, Muskegon, Oceana, Mason
Recreational Byways & Heritage Routes:
Chief Noonday Recreational Heritage Route
M-179
1998
Allegan, Barry
Huron Shores Recreational Heritage Route
US-23
2004
Arenac, Iosco, Alcona, Alpena, Presque Isle, Cheboygan
I-69 Recreational Heritage Route
I-69
2004
Branch, Calhoun
M-55 Recreational Scenic Byway (Proposed)
M-55
2023
Manistee, Wexford, Missaukee, Roscommon, Ogemaw, Iosco
Pathway to Family Fun Recreational Heritage Route
M-15
1998
Oakland, Genesee
U.P. Hidden Coast Recreational Heritage Route
US-41, M-35, US-2/US-41
2007
Menominee, Delta
Woodward Avenue Byway – Automotive Heritage Trail
M-1, BL I-75,
BUS US-24
1999
Wayne, Oakland
Additional Information