Who Maintains the Highways?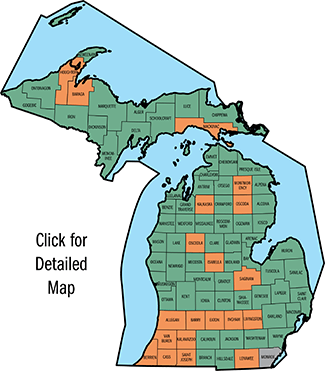 While the Michigan Department of Transportation (MDOT) has responsibility ("jurisdiction") over the entire state trunkline highway system in the State of Michigan, the Department only directly maintains the highways in 30% of the state's counties with its own crews. The trunklines in the remaining counties—with the exception of Monroe—are maintained by county crews under maintenance contracts with 57 County Road Commissions (and County Road Departments).
In the 25 Direct Maintenance Counties, MDOT maintains its own facilities, fleets of trucks and plows and employs its own crews involved in the routine maintenance of the state trunkline mileage within each of those counties. In 57 of the remaining 58 counties in the state, MDOT contracts with the County Road Commission (some of which have become County Road Departments in recent years) to perform the trunkline maintenance, such as routine patching, line painting, sign maintenance, winter plowing and salting, and so on. In 2019, Monroe County, one of the Contract Maintenance Counties, ended its maintenance agreement with the State. However, MDOT was not in a position to be able to construct new maintenance facilities as well as hire and employ an entire crew and purchase the necessary equipment to maintain the various trunklines in Monroe County, so it chose to outsource the trunkline maintenance to a private contracted company, with mixed results. MDOT has since worked to solve many of the intial issues with the private, contracted maintenance.